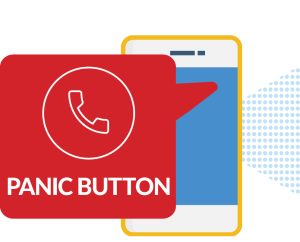 Hotel staff who work alone in rooms are vulnerable to criminal activity, including human trafficking and forced labor. The panic button built into our mobile operating platform – MOP – can help protect them from harm. 
MOP's panic button is a type of emergency safety device (ESD) that more and more city governments are requiring hotels to provide to their employees.
Our panic button is unique in that it's built into MOP, a mobile app housekeeping, maintenance, and front desk staff use on a daily basis to do their work. The panic button is not a standalone device you have to carry around, so it's easy and convenient to use. 
The panic button appears on every screen within MOP and with one tap automatically triggers life-saving actions, including:
Alerting designated hotel staff and security that there's an emergency situation.

Locates where the staff member is in the hotel.

Turns on the device's camera to record what's happening.

It complies with city-level regulations as well.
Show how much you care about the safety of your staff with MOP.
Read and learn more about Human trafficking prevention month.