Founded in 2000, Visual Matrix Focuses on Empowering Hospitality and Empowering our Team. We offer proven processes, exceptional working environment and world class benefits!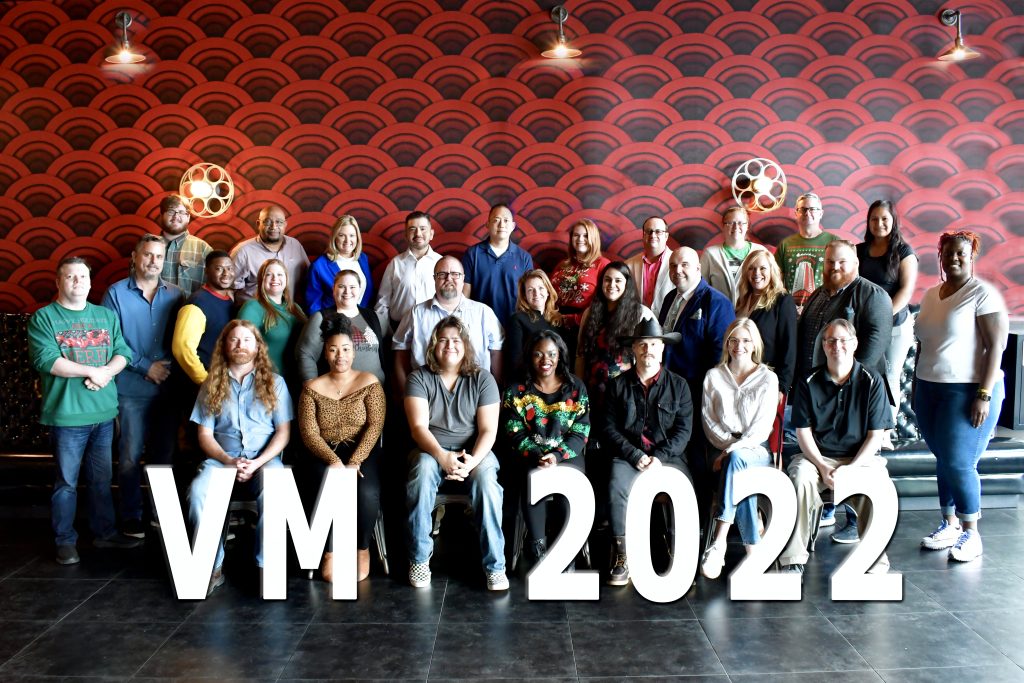 Visual Matrix is the swiss army knife of hotel operating systems that integrates seamlessly to meet every guest's need, and it's easy to learn!

But beyond delivering the best Hospitality Operating System ever, we also like to have fun. Whether it has been Zoom games, in-person Whirly Ball, Hockey Nights, or quarterly summits - we love to have fun while working hard.
Our positivity is showing!
We get a charge collaborating with each other, especially when the goal is having fun. If you're all about working and playing as a team, you might like it here.
YEARS BUILDING SOLUTIONS FOR HOTELS LIKE YOURS
Our Benefits Set Us Apart
Three outstanding medical plans provided by Aetna – company pays up to 85% of the premiums

$500 deductible plan, $1500 deductible plan and High Deductible Health Plan
Medical plans provided by Aetna include 24/7 Nurse Line and Teledoc with access to virtual appointments for physical and mental health providers

Dental insurance provided by Sun Life paid 100% by the Company
Vision insurance provided by VSP paid 100% by the Company
$50,000 life and accidental death policy provided by Sun Life paid 100% by the Company
Short-term and Long-term Disability insurance available provided by Sun Life
Health Savings Account for medical costs
Flexible Spending Account for medical costs
Dependent Care Spending Account for day care and adult care costs
Transportation Savings Account for public transportation costs
401k plan provided by Vanguard


No waiting period – immediate eligibility
100% match for the first 3% deferred, 50% match for the next 2% deferred
Make changes anytime
Financial advisor available anytime to help you manage your investments
Discretionary Time Off – DTO
No waiting period – immediate eligibility
Open-ended policy (not limited to a "bank" of time)
Take time off when you need it, for any reason
Fully Paid Parental Leave
12 weeks of paid leave -100% of your pay
Birthing or non-birthing parents, adoptions, foster care placement
Hybrid Work Environment
Work where you want
Equipment for your home office provided
Beautiful, spacious office space available to work in-office, located in Richardson, TX
Employee Assistant Plan (EAP) 100% paid by the Company
Services offered (but not limited to):
Confidential Emotional Support (Anxiety, depression, stress, grief, life adjustments)
Work-Life Solutions (finding child/elder care, hiring movers, planning events, pet care)
Legal Guidance (divorce, adoption, family law, wills, trust)
Financial Resources (retirement, taxes, mortgages, budgeting)
Online Support (articles, podcasts, videos, slideshows, on demand training)
Help for New Parents (preparing emotionally/financially, child care, going back to work)
Free Online Will Preparation (specify your wishes, funeral/burial instructions, choose a guardian for your children)
Connected Mind 100% paid by the Company
Provides clinically validated screening tool that screens for 6 common connected mental health issues including suicide risk.
Completely anonymous
Contains access to mental health resources
Each report contains code for a medical professional to access a full clinical version
Noom Membership 100% paid by the Company
Noom is a psychology-based program that helps people lose weight and meet their personal goals – from weight management to diabetes prevention to stress reduction
One-on-one support by dedicated goal specialist
Daily articles that cover the psychology of weight loss, behavior change, nutrition & exercise
Peer groups
Attain by Aetna app – included with any medical insurance plan
Get a free apple watch or earn points to get gift cards from many retailers
Set your own personal physical goals
Come have fun and work hard with us
Meet some of the team and see our offices
Visual Matrix is always looking for enthusiastic people passionate about driving results through collaboration and know-how in a positive and fun environment!
If you love working with people and helping others in a fast-paced environment, then our Account Executive role is for you!
Account Executives focus on building relationships with current and prospective clients while educating them on our technology solutions. Some key specifics are:
Managing client relationships in your territory
Respond to and follow up on leads directly from prospective clients
Actively listen and determine client challenges to offer a Visual Matrix tool that solves the challenges
Negotiate and close contracts
Identify, Document and Report issues negatively impacting perceptions of Visual Matrix
Maintain records in Zoho CRM for purposes of maintaining current clients and building a pipeline of prospective clients
Client Services Specialist
Our Client Services Specialists are perfect roles for people who love solving problems with technology and managing multiple projects in a detail-oriented environment. Some key focuses are:
Manage client relationships through the implementation process, ensuring the process is successful and smooth
Educate clients on new features and direct them through the training process
Assist clients with various technical tasks related to interfaces, cloud migrations, and implementations
Communicate with vendors to solve problems for our clients
Collaborate with multiple departments in solving complicated tickets
Document all communication with client in Zoho Desk
Software Engineers / Developers
Technology professionals looking utilize their talent in a busy, results driven environment with a strong comradery, are encouraged to join our team! Our team of developers implement new features to existing products, quickly diagnose and respond to productions system problems and set standards for coding practices, and provide infrastructure for raid and consistent development. Some key focuses are:
Task Flow – working with leaders to break down task requirements, implement and assign tasks
Bug Flow – investigate, confirm, diagnose and fix performance problems
Engineering Flow – journaling system problems, provide new or updated infrastructure in the development process
To us, core values mean everything.
It is how we hold ourselves, our team mates and our partners accountable.
These are not just words for us, they're how we operate every day.
Collaboration
Willing to help others
Approachable
Team oriented
Puts others first

OPTIMISM
Positive outlook
Energetic
Assumes positive intent
Encourages each other
Results Driven
Goes the extra mile
Gets stuff done
Hard working
Accepts responsibility for performance
Expertise
Understands role and work
Attention to detail
Thorough
Asks the right questions