Solution-rich options for hotels of all sizes
The ultimate get-it-all-done PMS Software to unite your under resourced team and fill rooms fast
More than PMS Software. A hotel operating Platform.
Take a minute to see all the time you can save and how you can empower your entire hotel with the VM+ Property Management Platform.
Here's what's in the VM+ toolbox (for starters)
A nimble, easy-to-use reservation feature enables your front desk to cater more to guests than to attention-hogging technology.
The engine that keeps your hotel firing on all floors.
A PMS software platform gives you the power to cover miles of operational tasks everyday. More efficiently. More profitably.
More competitively. From reservations and housekeeping to revenue management and POS, it's got everything you need to own the road to success and lean into the curves like a pro.
MOP our Mobile Operating Platform lets you clean up on efficiency lets you clean up on efficiency by providing real-time communication between housekeepers and your front desk.
Rate management features put time-intensive tasks of monitoring and updating reservations channels on cruise control.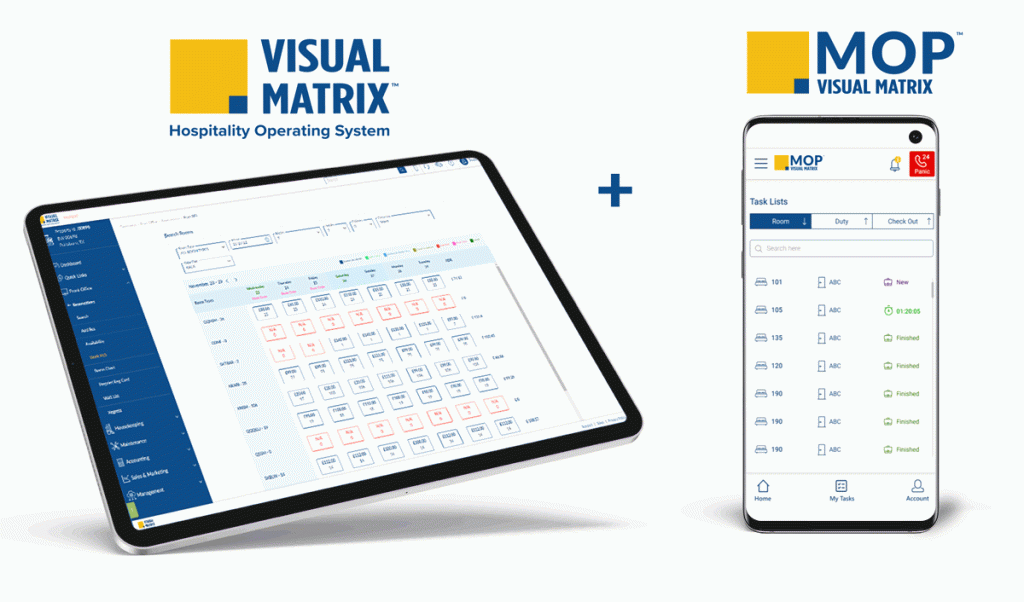 Check out our Savings Calculator to see how much our PMS Software and MOP products can you save you in time and money.
VM+:

enough ooMph for everything
So a skeleton crew can punch above their weight
Mouse over the features below to read more
RESERVATION
MANAGEMENT
SYSTEM
Central Reservations
For better front desk performance and fewer errors. Our PMS software includes an at-a-glance dashboard, robust functions to handle groups with ease, a bookres screen to quickly search availability and start a reservation, and a room rack to set room status and check in a reservation without breaking a sweat.
REVENUE 
MANAGEMENT LIVE!
Revenue Management LIVE!
Our PMS software includes an integrated Revenue Management solution option that automatically monitors and keeps your rates optimized 24/7 to maximize revenue for you. 
Checks rates every time a reservation is made, changed, or cancelled by you, your channel manager, or central reservations. 

Intelligently adjusts rates based on level of demand, channel type, and room type. 

Uses yield algorithms to highlight demand trends​

Option to perform integrated competitor rate shops

Provides real-time reporting
GUEST
TEXTING
Guest Texting
Keep in touch with guests and respond to requests before, during and after their stay, using custom and automated messages.
Notify guests when rooms are ready and send welcome messages at check-in

Accept special requests from guests during their stay

Sends a customer confirmation when a request has been posted

Automatically asks for a room number if multiple rooms have the same cell number

Notifies on-call hotel staff when a guest text is received

Sends an automatic thank you message at checkout
MOBILE
APP
Mobile App
A simple way to stay connected to what's going on at your hotel no matter where you are. Includes a mobile dashboard for the big picture, plus you can also set room status, start a work order, view useful management data, and retrieve guest text requests, all from a mobile device.
CHANNEL
MANAGEMENT
Channel Manager
Our PMS software includes an integrated solution to easily sell your inventory via online distribution channels around the world, such as OTAs, travel agents,​ search engines, GDS, or direct channels. Includes ​live rates and availability, pooled inventory, and occupancy pricing, and supports multiple room types.
BOOKING
ENGINE
Online Booking Engine
Increase conversions with this direct booking platform with customizable user interface and upselling features.  
Smart calendar showing "starting from" prices and any restrictions (MLos, stop sale) that avoid any type of denials

Interface available in 29 languages and all currencies in the world

Dedicated section for packages/offers with direct links to the specific package and automatic update on the website

Integration with Google Analytics for reliable, detailed reports on user booking flows
Why I chose VM. And will again.
I like the dashboard feature of the PMS software and I also like using the mobile app. With one click I can see how many rooms are in-house, how many departures, what kind of housekeeping load we will have that day.... It's just 1 2 3 on my smart phone.... Visual Matrix is easy to use and secure, I would recommend Visual Matrix to anyone.

Chetan Patel
General Manager
Best Western Plus Lewisville
Why I chose VM. And will again.
Love all the new features of the property management system and especially MOP. I like that Visual Matrix is really listening to the customer.

Dipal Patel
Governor
Best Western Hotel & Resorts at
Best Western International
Why I chose VM. And will again.
With the Visual Matrix PMS Software, everything I need is integrated into the system. Changing rates is a piece of cake. It is real simple to use.

Casey Martin
General Manager
Best Western Premier Crown Chase Inn & Suites
Schedule a short demo of the VM+ Property Management System (PMS) today. We promise it'll be easy and totally worth it.