Must-have hotel tech when you're working with less
Visual Matrix is the indispensable hotel operating system that helps understaffed, under-pressure hotels rise to every occasion
Your Next Hospitality Operating System
By bringing every part of your hotel operation together, we are able to save you time, money, and headaches. See it in action below, and schedule a demo today!
A cinch to learn and use by everyone on your team
Front Desk hero
I can mark a room out of service, get a work order going, and set up an automatic back in service date all in just a few clicks from VM's room rack.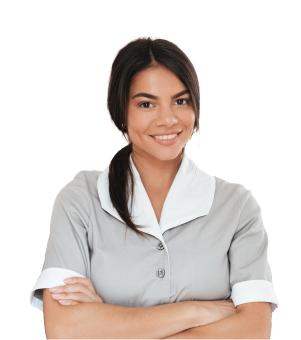 Houskeeping rockstar
When towels go missing from a room, I can use VM's mobile app to send a quick message to the front desk so they know to bill the guest.
All the tools you need.
One handy price.
Running a hotel is difficult enough as it is. We want to make it easier for you in every possible way and that includes making our pricing straightforward as well as affordable to manage. You get everything you need and nothing you don't at a price that's right on the money.
Why I chose VM. And will again.
I like the dashboard feature and I also like using the mobile app. With one click I can see how many rooms are in-house, how many departures, what kind of housekeeping load we will have that day.... It's just 1 2 3 on my smart phone.... Visual Matrix is easy to use and secure, I would recommend Visual Matrix to anyone.

Chetan Patel
General Manager
Best Western Plus Lewisville
Why I chose VM. And will again.
Love all the new features and especially MOP. I like that Visual Matrix is really listening to the customer.

Dipal Patel
Governor
Best Western Hotel & Resorts at
Best Western International
Why I chose VM. And will again.
With Visual Matrix, everything I need is integrated into the system. Changing rates is a piece of cake. It is real simple to use.

Casey Martin
General Manager
Best Western Premier Crown Chase Inn & Suites
You've read this far, so we must have piqued your interest. The next step is to contact us and schedule a demo. We promise it'll be worth it.