In honor of National Safety Month in June, we wanted to share a couple of proven ways for keeping your hotel staff safe on the job and protecting your bottom line from fraudsters. 
Encouraging safety in the workplace is important for any business and can take many forms. According to the National Safety Council (NSC), businesses that create and promote a safety culture benefit in a variety of ways, including being able to save money and increase productivity.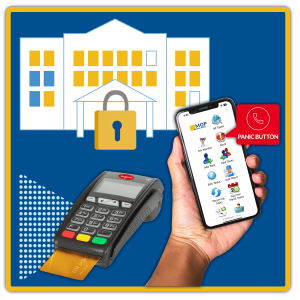 #1 Protect your most valuable asset: Your hotel staff
Hotel staff are often vulnerable as they work alone in rooms and behind closed doors. The simple act of a guest opening the door can quickly escalate into a scary situation for a housekeeper working solo on a floor where most guests have left for the day.
Thanks to technological advancements, hotels can now easily provide staff with a panic button they can carry and use whenever they encounter a threatening situation on the job. It's a discreet way for hotel staff to call for help or to report suspicious activity or safety concerns.
Panic buttons, like the one included with the housekeeping app MOP by Visual Matrix, also help keep you compliant with city ordinances. Local governments are increasingly requiring hotels to provide an Emergency Safety Device (ESD) to their employees or risk fines, harm to their reputation, and ultimately lost bookings if guests learn their hotel isn't safe.
#2 Protect your hotel from card-not-present fraud 
Billions of dollars are lost by U.S. merchants and consumers every year to card-not-present (CNP) fraud. It's a type of credit card scam where a card isn't physically present when a customer is making a fraudulent transaction with a merchant.
In the lodging industry, CNP fraud and related chargebacks can happen in various scenarios. For example, contactless check-ins that became popular during the pandemic make it easy for fraudsters to use stolen credit card credentials, because they don't have to interact with front desk staff.
Hotels can reduce their risk of CNP fraud by upgrading to EMV, a chip-based payment system that adds an extra layer of security to existing magnetic stripe technology by authenticating credit and debit card transactions. It also helps hotels comply with Payment Card Industry (PCI) regulations and protects your guests' data. 
Hotels using Visual Matrix PMS software can easily integrate an EMV payment platform with great partners, like Elavon, Fortis Pay, and Shitf4. By upgrading to EMV, you get the highest level of protection and functionality, including:
End-to-end encryption

Reduced PCI scope

Reduced liability

Tokenization

Credit card processing

Reduced chargebacks

Paperless 
CTA: It pays to play it safe. To learn more and get a demo, contact us today.