In the fast-paced world of hospitality, staying informed and adapting to industry changes are key. Visual Matrix has made it a priority to provide hotel owners and managers with the latest insights, tips, and industry news for 100 consecutive weeks. As we celebrate our 100th weekly Tip Sheet, we'd like to take a moment to reflect on the journey, the impact it has made, and what the future holds.
A Journey Through 100 Tip Sheets
Our journey began with a simple idea: to empower hotel owners and managers with valuable knowledge to enhance their operations and guest experiences. Over the past 100 weeks, we've covered various topics, from revenue management and customer service to technology trends and staff management. Along with many giveaways, exclusive releases, webinars, and much, much more! We've strived to be your go-to resource, offering practical advice, best practices, and actionable tips to help your hotel succeed.
As we celebrate this significant milestone, we also look ahead with excitement. Our commitment to providing valuable content to our customers remains unwavering. We'll continue to explore emerging trends, share expert insights, and adapt to the evolving needs of the hospitality industry.
The next 100 Tip Sheets promise to be as informative and insightful as the first 100. We're excited to inform you about the latest in the industry and support your journey to success.
Thank you for being a part of our journey. Your dedication to excellence in the hospitality industry inspires us to keep delivering top-quality content.
Stay tuned for upcoming Tip Sheets that will empower you to thrive in the ever-changing world of hospitality.
Here's to the next 100 tip sheets and the bright future of the hospitality industry!
If you love our Tip Sheets, please help us improve them! Take a quick survey to enhance your reading experience, and as a thank you, enjoy Starbucks on us! Also, gain exclusive access to our upcoming MOP 2.0 webinars, an open Q&A, and a chance to unlock a 100-day free trial of MOP – all tailored just for you!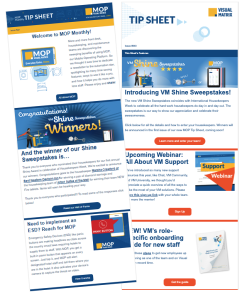 Join us now to access our future tip sheets and stay engaged in this incredible journey with us!